Psst…did you forget what day it is? It's VALENTINE'S DAY!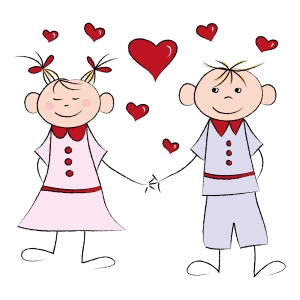 OK, this is my blog and I reserve the right to go "off subject" whenever I feel the urge! Today, I'm feeling it…
Let me start by wishing you a Happy Valentine's Day. Now, for some of you, this may come as a shock. I don't know why, unlike Easter, Valentine's Day is on the same date every year, but some people seem incapable of remembering it – am I talking to just Men? Probably not. Am I talking to the un-romantics amongst you? Possibly… or maybe you're just too darn busy to remember everything! I can relate to that.
If you have forgotten, I have an idea here that will save the day, and possibly your relationship! I can't claim to have thought of it (I found it on eco empire), I'm just passing it on as I absolutely love it – what's more it doesn't cost a penny (well, not today!)
Did you ever make one of those origami fortune tellers at school? I know I did and my daughter brought one home from school recently, so they've obviously stood the test of time. Well that's what you need to make, but instead of it telling your fortune, it's going to plan future dates for you. You fill it with mix and match activities and let it plan your date night. What I really love is that it can be a symbol of your commitment to spend regular quality time together. So once a month, out comes your fortune teller and you let it decide how you get to spend your date night – don't you love it? You can find all the instructions here
Just a thought, you might like to present your gift over a candle-lit dinner that you've lovingly prepared for your sweetheart.